2010 Wisconsin Triennial
May 22, 2010 – August 15, 2010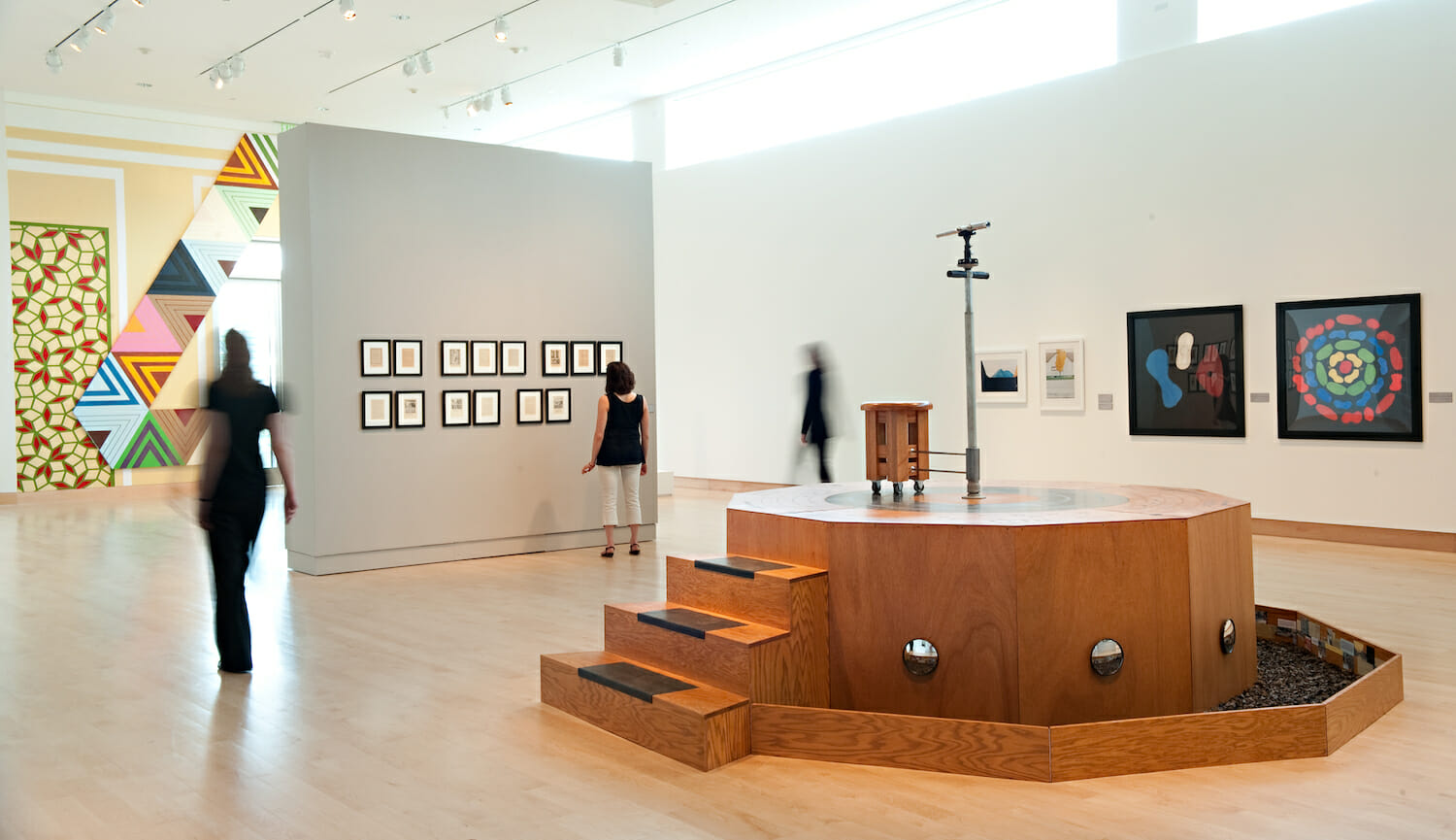 Overview
The 2010 Wisconsin Triennial will feature works by forty-two individual artists and two pairs of artists working in collaboration. This year's Triennial—the twelfth statewide survey undertaken by the Madison Museum of Contemporary Art—will open on the evening of Friday, May 21, and be on view in the Museum's Lobby, State Street Gallery, New Media Gallery, and Main Galleries through August 15, 2010. A cornerstone of MMoCA's programming, the Triennial captures the spirit of the time and functions as a harbinger of trends to come.
The 2010 Triennial will feature site-specific installations constructed at the Museum, as well as completed works transported from artists' studios. Paintings, photographs, sculpture, and video are among the mediums represented, with exhibiting artists employing a wide range of materials and diverse approaches to process and content.
Ideas and themes abound in the exhibition. These include the exploration of age-old legends, the latent economies within our global world, the psychology of interaction, the difficulties of bereavement, and the disappointments of failed utopias. According to MMoCA's Curator of Exhibitions Jane Simon, the 2010 Wisconsin Triennial "nods to the past, represents the present, and looks to the future. As a whole, the exhibition is a testament to the dedication and sophistication of artists currently working in the state."
Artists participating in the 2010 Wisconsin Triennial are:
Actualsize Artworks (Stoughton), sculptural installation
Sofia Arnold (Viroqua), painting
Tom Berenz (Oshkosh), painting
Derrick Buisch (Madison), painting
Bruce Charlesworth (Milwaukee), video installation
Warrington Colescott (Hollandale), painting
Melissa Cooke (Madison), drawing
Carl Corey (Hudson), photography
Kim Cridler (Mazomanie), metals
Santiago Cucullu (Milwaukee), mixed media
Sarah Detweiler (Green Bay), photography
Carol Emmons (Green Bay), installation
Nicholas Frank (Milwaukee), performance and text
Martha Glowacki (Sauk City), mixed media
Lisa Gralnick (Madison), sculpture
Karen Gunderman (Milwaukee), ceramic installation
Erik Gunneson (Madison), film installation
Chad Hallblade (Milwaukee), photography
Kitty Huffman (Lyndon Station), video
Chele Isaac (Madison), video
Tom Jones (Madison), photography
Toby Kaufmann-Buhler (Madison), video
Richard Knight (Milwaukee), drawing
Gina Litherland (Cedarburg), painting
Nancy Mladenoff (Madison), painting
Frances Myers (Hollandale), photography
John Riepenhoff (Milwaukee), installation
Doug Rosenberg (Oregon), giveaway
Paul Sacaridiz (Madison), ceramic installation
John Shimon and Julie Lindemann (Manitowoc), photography
Claire Stigliani (Madison), drawing and watercolor
Alison Stehlik (Green Bay), ceramic installation
Laura Stewart (Bailey's Harbor), film
Marcelino Stuhmer (Milwaukee), sculpture and prints
Marc Tasman (Milwaukee), photography
Sonja Thomsen (Milwaukee), photography
Michael Velliquette (Madison), paper-based installation
Eduardo Villanueva (Madison), site-specific painting
Babette Wainwright (Madison), sculpture
Curtis Whaley (Madison), prints
George Williams (Beloit), painting
Linda Wervey Vitamvas (Bayside), ceramics and sculpture
Jason Yi, (Milwaukee), performance and sculpture
Xiaohong Zhang (Whitewater), paper cutouts
---
Exhibition Support
Generous support for the 2010 Wisconsin Triennial has been provided by the Institute of Museum and Library Services; University Research Park; Mary Ellyn and Joe Sensenbrenner; Hiebing; Associated Bank; MillerCoors; Cosmic Debris; Paula and David Kraemer; Smith & Gesteland, LLP; the Dane County Cultural Affairs Commission; Jeff Levy; a grant from the Wisconsin Arts Board with funds from the State of Wisconsin and the National Endowment for the Arts; and the Art League of the Madison Museum of Contemporary Art.
The MMoCA Nights opening for the 2010 Wisconsin Triennial is generously sponsored by Newcomb Construction Company; media support for MMoCA Nights is provided by Isthmus│TheDailyPage.com.