Tours
Guided Exhibition Tours
Guided tours of MMoCA provide students with an opportunity to experience one of Wisconsin's premiere settings for viewing modern and contemporary art. MMoCA's exhibition galleries are designed to accommodate a wide range of visual art—from intimate drawings, prints, and photographs to large-scale sculptures, paintings, and installations.
Guided tours may be requested by completing the tour request form. Please allow three weeks advance notice for guided tours.
School tours are available during the Museum's normal operating hours for groups of 10 to 60 students. Larger or smaller groups may be accommodated by contacting education@mmoca.org.
Please check the Plan Your Visit page for Museum hours.
Tour subsidies to offset bus transportation and a substitute teacher are also available. See below for more information.
General admission to MMoCA is free.
---
Teaching Pages
Teaching pages introduce your students to works of modern and contemporary art at MMoCA. Teaching pages for art on view in current exhibitions and works of art in the Museum's permanent collection are available for orienting your students before a museum visit or as ongoing classroom resources.
Teaching pages provide visual analysis and background on the works of art, biographical information on featured artists, discussion questions, and links to additional learning resources.
---
FAQ
Answers to frequently asked questions about school tours, including pre-visit planning, cost, bus parking, tour logistics, and lunch options. Download our Guided Tour FAQs; information on bus parking and directions; and the important role of chaperones.
Download Info and FAQs_MMoCA Guided Tours
---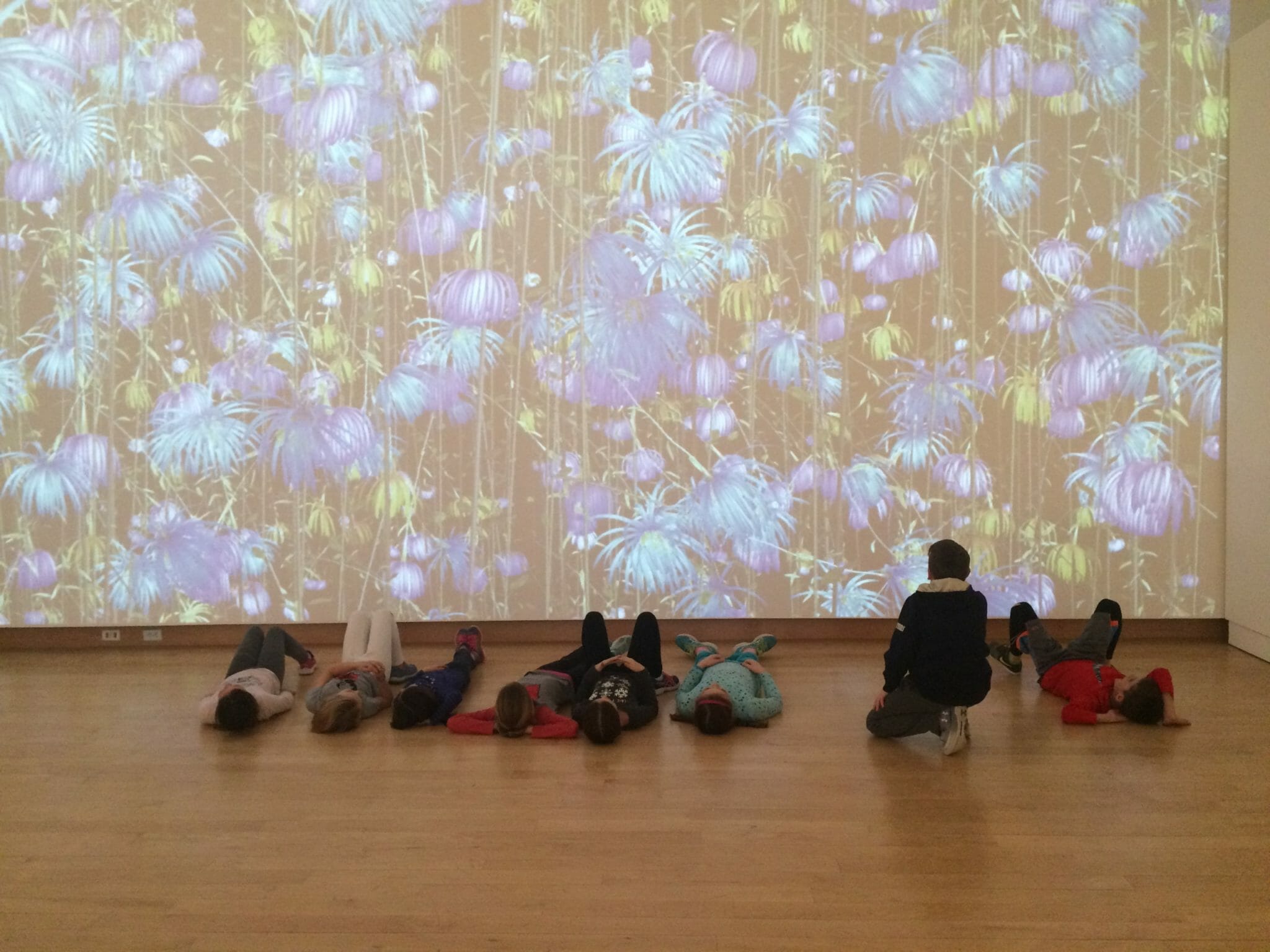 School Tour Subsidy
The Museum's School Tour Program provides art teachers with bus transportation and substitute teacher subsidies to enable them to visit the Museum on a guided tour. School Tour funds are limited and dispersed on a first-come, first-served basis. All public schools may request reimbursement; preference is given to urban and rural schools with limited field trip funds and to schools that serve students who are economically disadvantaged.
Download the Reimbursement Information PDF
The School Tour Program is generously supported by The Evjue Foundation, Inc., the charitable arm of The Capital Times, the Nimick Forbesway Foundation, and an anonymous donor.
---
Curricular Connections
The art on view at MMoCA presents an array of topics for exploration. Students on a guided tour may encounter art that investigates current events and global trends, culture and society, enduring aspects of human experience, and the essential processes of seeing and perceiving. The creative decision-making that artists undertake to make their work is a central theme of guided tours.
Tours are led by experienced and enthusiastic docents who provide information and build upon student observations through group interaction. The goal of a tour is to encourage students to observe, question, think, respond, and reflect as they look at and analyze visual art.
Guided tours meet Wisconsin Model Academic Standards for visual art and the Common Core State Standards for student literacy, including Key Ideas and Details, Craft and Structure, and Vocabulary Acquisition. By experiencing the in-depth "noticing" that is encouraged on a tour, students become more aware of the power of details to communicate an idea. By analyzing a work of art, they begin to see the different parts and how they relate to the whole. And by traveling to different contexts through the art in the museum, students acquire a range of vocabulary basic to visual art and its varied content. Tours may also be tailored to address social studies standards as well as teachers' specific learning goals.