Federico Uribe: Metamorphosis | Metamorfosis
September 30, 2023 – May 26, 2024
About
Metamorphosis features the Colombian-born, Miami-based artist Federico Uribe's magical, colorful, and sculptural menagerie of animals made of everyday materials. Colorful shotgun casings and golden varying caliber bullets are brought together to form a lion; leather sneakers are arranged into a leaping puma; and an army helmet becomes a turtle's shell. In an interview, Uribe underlines the irony inherent in his choice of materials: "People kill animals to make shoes; I make animals out of shoes." One might then think that the artist intends to alert viewers to the senseless killing of animals. But, instead, Uribe aims to use ordinary and sometimes provocative materials to challenge associations; the goal is against the grain and utopian — or, as he says, to "make people happy" — in spite of preconceived connotations. Uribe shape-shifts feelings of sorrow, rage, and despair to create positive, immersive environments.
---
About the Artist
Born in Bogotá, Colombia in 1962, Federico Uribe currently lives and works in Miami. His artwork resists classification and emerges from intertwining everyday objects in surprising ways that maintain a formal reference to art history. Uribe studied art at the University of Los Andes in Bogotá, and by 1988 he arrived in New York to pursue an MFA degree under the supervision of Luis Camnitzer. After receiving his degree, he left New York to study and work in Cuba, Mexico, Russia, England, and finally Miami.
In 1996, Uribe abandoned his paint brushes and canvases in favor of household objects (plastic cutlery, colored pencils, and so on). He began to carefully observe, collect, juxtapose, and combine this alternative media. They have become unusual instruments of a new aesthetic, full of color, irony, and lively playfulness. When observed closely, his works reveal various kinds of interpretations; they tempt us to touch them, to discover the detail and connection between one element and another. When viewed from farther away, they offer volumes, forms, textures, and color. His creations elicit excitement and intrigue from all walks of life, and the novelty of the media often belies the compelling aesthetic merit of each work of art.
Uribe's work has become prominent around the world over the past two decades and has been regularly shown at galleries and museums in Europe, Asia, and widely across the United States. His works are in the public collections of the Museum of Fine Arts, Boston, The Montclair Art Museum, Vero Beach Museum, and Bass Museum to name a few. Over the past decade, Uribe has been the subject of solo exhibitions at the Montclair Art Museum, MASS MoCA, the Montgomery Museum of Art, Woodson Art Museum, The Hudson River Museum, Ann Norton Sculpture Gardens, The Brooks Museum, and has been featured in the 2019 Venice Biennale. Federico Uribe is represented by Adelson Galleries.
---
---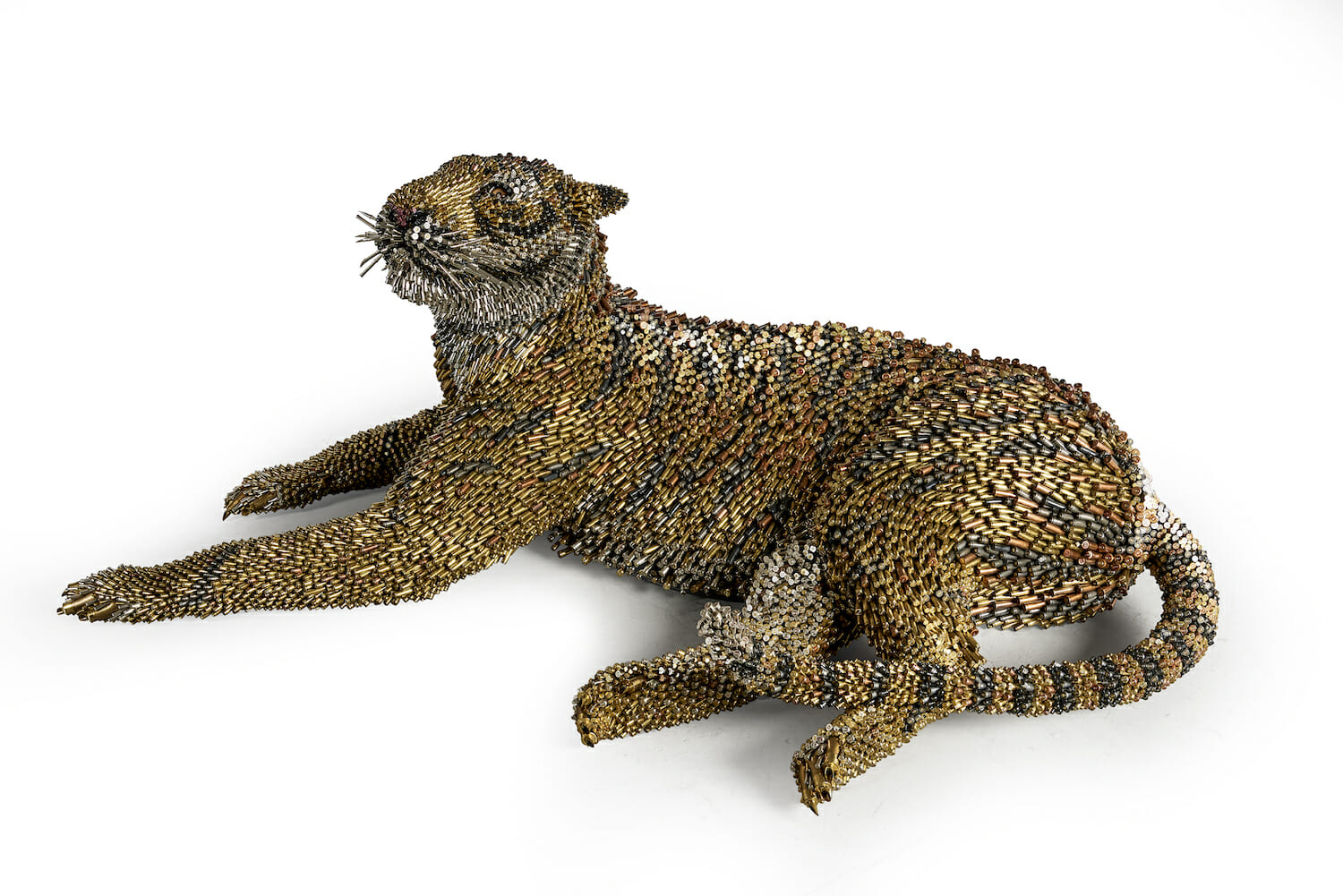 ---
---
Presenting sponsorship for Federico Uribe: Metamorphosis | Metamorfosis has been provided by Paula and David Kraemer.