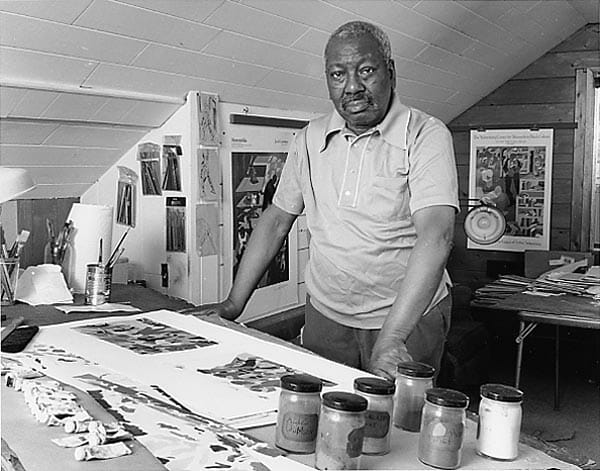 Jacob Lawrence
Along with Romare Bearden, Jacob Lawrence is numbered among the most important African American artists associated with the modern tradition. He was born in Atlantic City, but like Bearden, his childhood was spent in Harlem, New York during the years of the Harlem Renaissance, an eminent literary movement that championed black culture. Lawrence began to paint during the 1930s and wished to depict the life experiences of African American men and women.
Adopting an easy-going expressionist style of bright colors and undulating line, his true passion was to create narrative series based upon significant events and individuals from black history. His masterwork, The Migration of the Negro Series, which he created in 1940-41, is a sequence of sixty panels treating the hardships and triumphs of black Americans who journeyed from the rural South to the industrial North in the early twentieth century. Its presentation in New York marked the first exhibition of an African American to appear in a New York gallery. Lawrence was also the first black American artist to gain recognition within the larger world of American art. With the changing attitudes brought about by the Civil Rights Movement in the 1950s and the social reforms of the 1960s, Lawrence and Bearden received long overdue public acclaim.
Artworks
Learn more about Dining Out.