Art Green
Born: 1941 (Frankfurt, IN, United States)
Art Green enrolled in the School of the Art Institute (SAIC) in 1961 with the intention of becoming an industrial designer. This was a career he viewed as a compromise of his own artistic interests and his father's background as an industrial engineer. Within his first year, however, he redirected his attentions to drawing and painting. Even so, Green retained an appreciation for architectural structure and found Chicago's evolving landscape especially inspiring. In a 2005 interview, he reflected: "Chicago was full of juxtapositions and I liked wandering around old neighborhoods and industrial areas just to see the way one thing came up against another so naturally." Green participated in the first Hairy Who exhibition at the Hyde Park Art Center in 1966 alongside James Falconer, Gladys Nilsson, Jim Nutt, Suellen Rocca, and Karl Wirsum.
Green experimented with expressionistic abstraction before developing a distinct personal style that featured densely layered compositions, geometric constructions, and references to commercial culture. While the landscape of Chicago and his father's experience building bridges may have provided the basis for the repeated inclusion of ropes, cables, and wires in his paintings, Green also credits his wife and fellow SAIC graduate Natalie Novotny's specialization in fabric design for his own overlays of intense patterning.
Green has said he enjoys giving his images a sense of mystery, and many works are internally framed with a parted curtain to communicate a sense of a mystery revealed. The observant viewer will also find mysteries in the layers of the artist's surreal images. Green has described his "ideal viewer" as "someone with time on their hands…who also takes a similar approach to examining my work—seeing patterns, making connections, sorting out layers, interpreting the imagery and questioning my motives."
Between 1966 and 1975, he taught in a Chicago public school, at Chicago City College, and at Kendall College of Art and Design in Evanston, Illinois. In 1969, as national recognition of the Hairy Who and Chicago Imagists, began to increase, Green accepted a teaching position at the Nova Scotia College of Art and Design. Although he has resided in Canada ever since, Green maintains that he still considered himself a "Chicago artist." In 1976, Green moved to Stratford, Ontario, to teach painting at the University of Waterloo. Fittingly, the school was famous for its program in mathematics and engineering, an academic convergence of Green's interest in industrial structure and visual art. He retired from teaching with emeritus status in 2006.
Artworks
Learn more about Untitled.
Learn more about Dead Reckoning.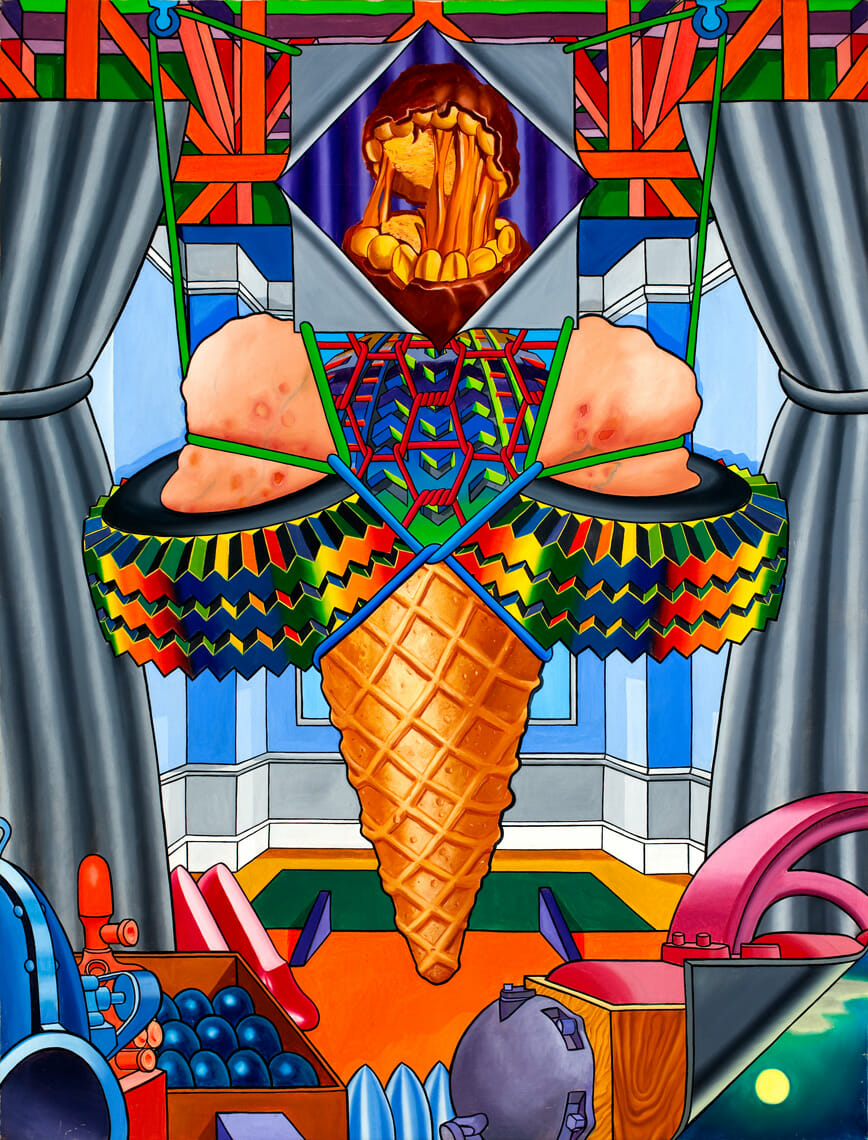 Learn more about Regulatory Body.