Amy Cutler: A Narrative Thread
March 12, 2021 – May 16, 2021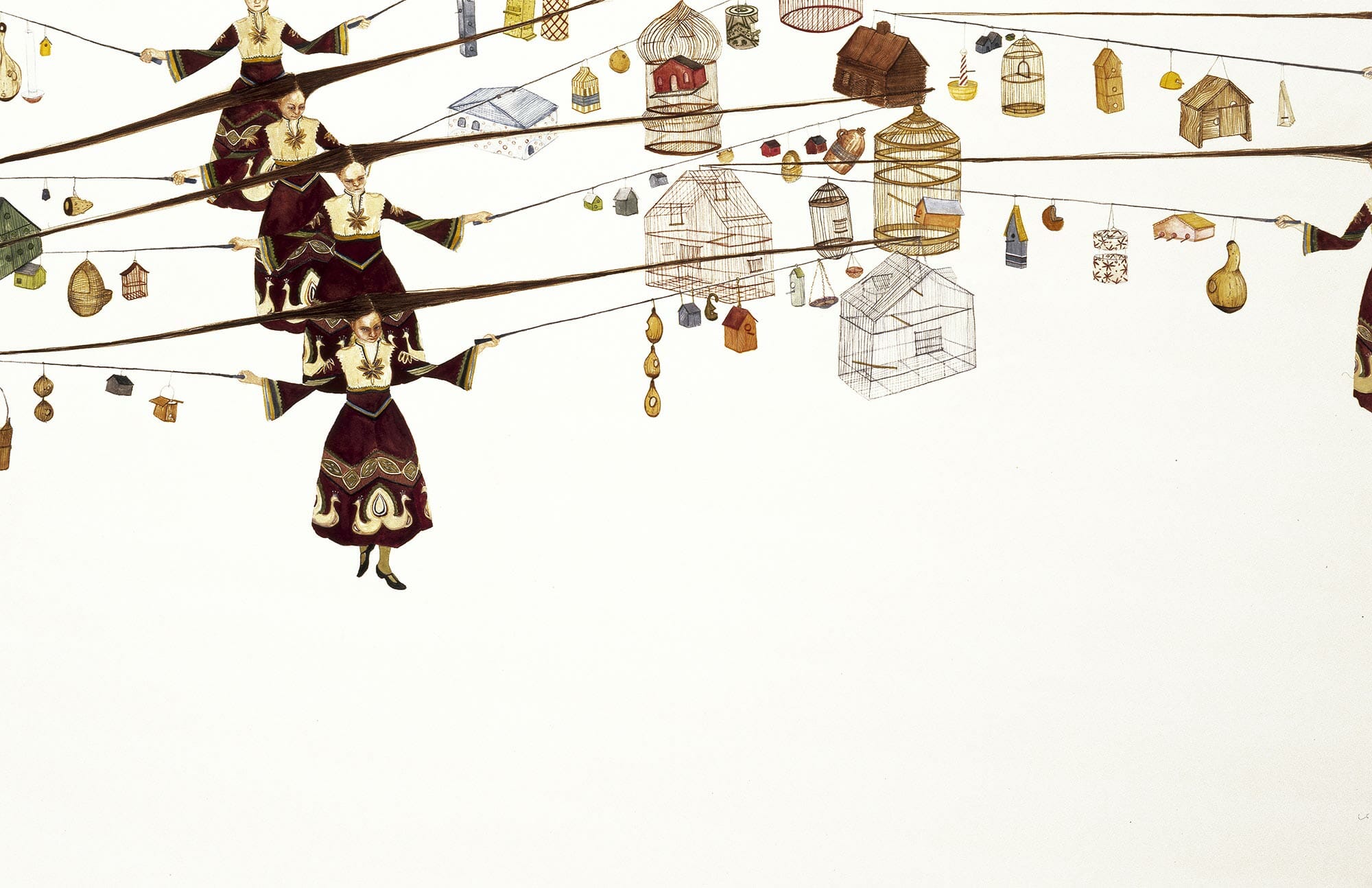 About
Amy Cutler is known for her highly detailed compositions of austere but immaculately attired women who, with singular focus, engage in curious activities—from sewing stripes onto tigers to delivering elixirs while wearing boot-shaped wooden stilts. Despite their fictionalized settings, the drawings are often inspired by Cutler's own experiences and anxieties, which she brilliantly transforms into allegorical scenarios that resonate with emotional depth and humor. Seamlessly integrating subtle allusions to contemporary politics and even stories of religious martyrdom into her work, the artist is also influenced by a range of visual sources, including Persian miniatures, Japanese Ukiyo-e prints, and ethnographic dress and textiles. This exhibition takes a deeper look at Cutler's use of material culture as a subtle narrative device, and focuses particularly on her embrace of elaborate costuming and fabric patterns as a means to express her characters' psychologies and to reinforce the narrative backstory of her compositions.
---
Gallery
---
Virtual Visit with Amy Cutler
---
---
DIY: Amy Cutler-Inspired Windchimes
---
Exhibition Catalogue
Amy Cutler: A Narrative Thread, was published by the Madison Museum of Contemporary in conjunction with the artist's 2021 exhibition of the same name. Based in Brooklyn, NY, Cutler has garnered critical acclaim for her immaculately detailed and narratively enigmatic works of art. Her contemplative and psychologically charged compositions act as abstracted metaphors that reflect the artist's personal experiences and anxieties.
As an homage to Cutler's creative process, MMoCA commissioned five female authors—Chloe Benjamin, Lydia Conklin, Krista Eastman, Lauren Groff, and Suzanne Rivecca—to write short stories about several of the paintings included in the exhibition.
This fully illustrated publication was designed by Art & Sons, the Madison-based collaborative studio of Drew Garza, Scott Paulie, and Jerry Chapa; the catalogue also includes an essay by MMoCA Curator of Exhibitions Leah Kolb, who organized the exhibition.
---
Artist Talk with Amy Cutler
Friday, April 30, 2021 • 5:30–6:30 PM
---
---
Presenting Sponsorship for Amy Cutler: A Narrative Thread has been provided by The David and Paula Kraemer Fund.
Major Sponsorship has been provided by Gina and Michael Carter; and the Steinhauer Charitable Trust; with additional support from Dane County Arts with funds from the Endres Mfg. Company Foundation, the Evjue Foundation, Inc., charitable arm of the Capital Times, the W. Jerome Frautschi Foundation, and the Pleasant T. Rowland Foundation; Timothy McIlwain at Lincoln Financial; and the Wisconsin Arts Board with funds from the State of Wisconsin and the National Endowment for the Arts.