Information for Exhibiting Artists
2022 Art Fair on the Square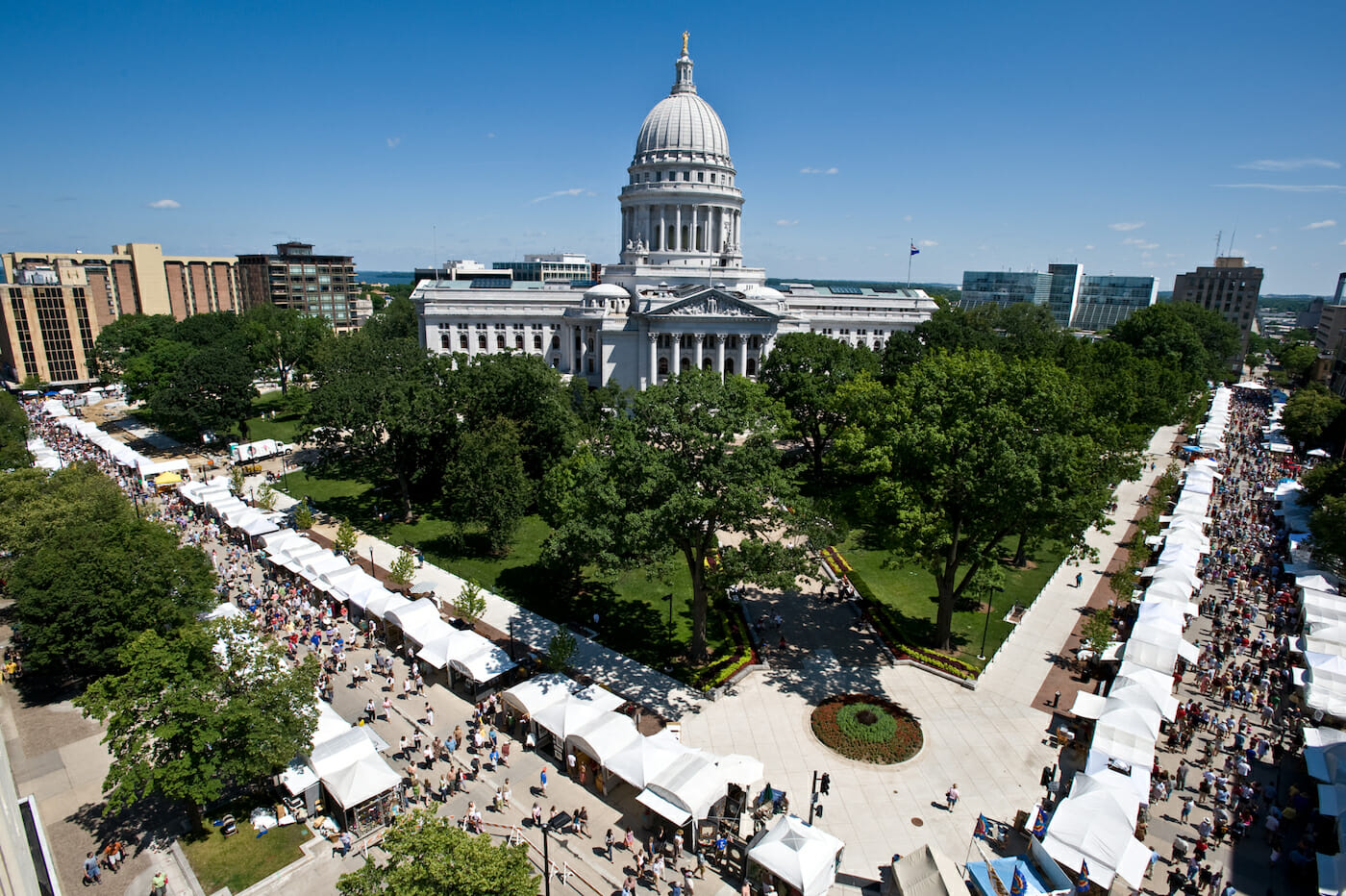 For those artists who were invited to exhibit in the 2022 Art Fair on the Square, congratulations once again! We look forward to welcoming you to Madison's most beloved summertime event Friday, July 8, 2022  for load in and set up. Prepare for a weekend filled with thousands of art enthusiasts; talented fellow artists; live entertainment; and a delicious array of foods at dozens of convenient stands. Thank you for participating, we wish you every success.
In late June we will be mailing every artist (regular US mail) a pre-fair packet with a booth assignment, maps, and a VIB (Vehicle Identification badge).  If you are traveling and won't be back home to pick up your mailing before the fair, download a non-personalized copy right here anytime after July 1, 2022.
About Art Fair on the Square and COVID-19
We are continuing to pay close attention to the the coronavirus. The health and well being of our community and artists around the country are of utmost importance to us. For now, we're planning for the fair to move ahead as scheduled. Be sure to read all email from annik@mmoca.org and artfair@mmoca.org ASAP. As of today, mask wearing is STRONGLY ENCOURAGED. It is possible that the Public Health order will change and they could be required. Be prepared-have masks with you, and read the complete Safe Exhibitors Guide!
All 2021 invited artists have three required steps to complete after applying on Zapplication:
Exhibiting artists will be sent a pre-fair packet of information along with a booth assignment in late August/early September. If you are travelling and need to download a "generic sample packet" check back here beginning September 13.
FREQUENTLY ASKED QUESTIONS
Please download and read the 2022 FAQ for artists now, you'll thank us later!
---
Set up hours
Artists will be let onto the square from assigned entry streets beginning around 5:30-6:00 PM on Friday, September 24. Set up continues throughout the night until 8:00 AM on Saturday, September 25.
Restocking
Artists may restock with a vehicle starting at 6:45pm (or when foot traffic clears) on Saturday, September 25 throughout the night until 9:00 AM on Sunday, September 26, 2021.
Public Fair Hours
Saturday, July 9, 2022 (9:00 AM – 6:00 PM)
Sunday, July 10, 2022 (10:00 AM – 5:00 PM)
Tear down
Artists may begin tear down at 5:00 PM on Sunday, July 10, 2022.
---
Hotel Room Blocks
Hotel room block cut off dates have passed, but you can find a list of hotels downtown by selecting "visit" from the top navigation on the https://visitdowntownmadison.com/visit web page (scroll down and check : Hotels & Accommodations on the left).
Sales Tax/Required Tax Form
Every artist that will have a booth at the fair needs to submit Wisconsin Temporary Event Operator/Seller information to MMoCA each year at www.mmoca.org/taxform.
If you already have a Wisconsin Tax Account Number (15-digits long and begins with "456"), you can simply fill out the online version of this form now at www.mmoca.org/taxform.
If you don't have a Wisconsin Tax Account Number, visit www.revenue.wi.gov/html/tempsell.html to get one, so that you can fill out the online form for MMoCA later at www.mmoca.org/taxform.
parking
There are a variety of parking options located in the downtown area, see: City-operated parking map. The best option for artists—especially those travelling with large vehicles & RVs—would be the "Permitted Section" or ungated portion of the Brayton Lot, which is available via permit (see details for parking here). MMoCA is unable to provide parking for all of the exhibiting artists.
BOOTH ACCESSORIES/EQUIPMENT
Need to rent a tent and/or table? Contact Bucky's Rentals at (608) 291-2500 or visit http://buckysrentals.com for information or Event Essentials at https://www.eventessentials.com/.
Questions not answered above? Please contact:
Annik Dupaty
Director of Events & Volunteers
annik@mmoca.org
Note: Due to the high volume of emails that Annik receives she may not be able to respond to your messages quickly. Your patience is appreciated.